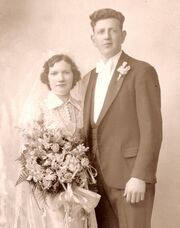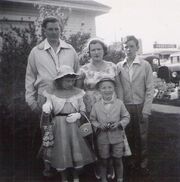 Eleanor Frieda Vogsberger (1911-1975) Worker at F.W. Woolworth Company (b. August 08, 1911, Bronx, Bronx County, New York City, New York, USA - d. August 02, 1975, 3:05 pm, USC Medical Center, Los Angeles, Los Angeles County, California, USA) Social Security Number 091076778.
Birth
Eleanor was born in 1911 to Charles Fredrick Vogsberger I (1880-1917) and Mary Agnes Hepp (1886-1968) and she had two siblings: Fredrick Charles Vogsberger I (1906-1993) who married Louise Clara Schoch (1914-2002); and Charles Fredrick Vogsberger II (1908-1996) who married Frances Engel. The original family name was most likely "Vogtsberger".
Education
She dropped out of school after the 8th grade according to the 1940 United States Census.
Death of father
Eleanor's father died young and her mother married a much older man: Anthony Rensing (1867-aft1930). Mary and Anthony appear in the 1930 US Census living in the Bronx with Eleanore and her brother Frederick.
First marriage
"Eleanor F. Vogsberger" married on November 1, 1931 in the Bronx. Her certificate was "8070". She appears to have had the marriage annuled.
F.W. Woolworth Company
In 1936 Eleanor was working at F.W. Woolworth Company at 465 5th Avenue in Manhattan when she applied for a Social Security number, she was living at 1734 Webster Avenue in the Bronx.
Second marriage
On March 14, 1937 Eleanor married Norman Edward Winblad (1911-1980) at the Elton Avenue Methodist Church at 79 Elton Avenue and 158th Street in the Bronx, New York City.
California
On June 23, 1939, Eleanor's mother-in-law died and her husband, Norman, went to California for the funeral and he eventually moved the family there. Norman later opened a lawnmower repair shop in California.
Death
Eleanor died in 1975 from "cardiorespiratory arrest with gram negative sepsis and brainstem infarction". She was listed as "Eleanor F. Winblad".
Burial
She was buried in Forest Lawn Memorial Park in Covina in Los Angeles County in California. She is not buried with her husband, who was cremated.
Uncompleted task
There also was a Mary Vogsberger who married on August 11, 1919 and had certificate number "3193". She must be related.
Footnotes (including sources)