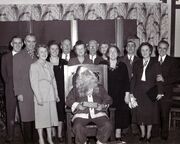 Eleanor Margaret Jensen (1897-1987) Telephone Operator, Housewife (b. July 22, 1897, Chicago, Cook County, Illinois, USA - d. March 1987, River Forest, Cook County, Illinois, 60305, USA) Social Security Number 330228596.
She married Mahlon Edward Shanahan (1900-1993) around 1921.
They had two children:
In the 1917 Chicago City Directory Eleanor was listed as working as an "operator" and living at 4940 West Austin Avenue.
She died in 1987 and was buried in Mount Emblem Cemetery.
External links
Edit
Ad blocker interference detected!
Wikia is a free-to-use site that makes money from advertising. We have a modified experience for viewers using ad blockers

Wikia is not accessible if you've made further modifications. Remove the custom ad blocker rule(s) and the page will load as expected.