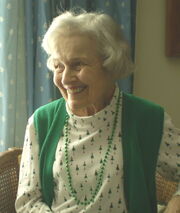 Lucy "Elizabeth" (nee Durner) Geer
(November 16, 1927 - December 7, 2009), a native of Waterbury,
New Haven County, Connecticut
was born November 16, 1927 to
Loren Durner (1890-1991)
and
Hazel Irene Harris (1893-1988)
and made Birmingham,
Jefferson County, Alabama
her home for 50 years. She was an active member at Southside Baptist Church for 25 years and then at First Baptist Birmingham for 25 years, where she was a member of bell choirs in both churches, most recently the "Celebration Ringers."
Mrs. Geer graduated from Stetson University in 1949 with a B.A. in English with further studies in Library Science. She always had a great fondness for music; teaching was another strong interest. She taught piano lessons in her home for over 25 years. Her church responsibilities included teaching children, youth, and internationals; the library, and accompanying the junior choir. She also taught English as a Second Language one day a week at the church for 20 years. Her husband, the Dr. William Dudley Geer (1922-2003), joined the faculty at Samford University in 1959 serving as the first dean of the School of Business from 1966-1990. During that time, Mrs. Geer served as an active member of the Samford Faculty Women's Club and the Women's Auxiliary. Along with her husband, Mrs. Geer enjoyed traveling and entertaining internationals in their home. She resided at Town Village, Vestavia, where she played the piano for the Sunday morning worship services.
External Links
Edit