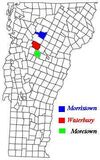 Born: 26 May 1847, Ireland. Census records for 1870, 1880 and 1890 indicate a YOB of 1847/1848, and a POB of Ireland. Her gravestone shows a YOB of 1857, and is thought to be in error. Two of Ellen's children , Mararet Mariah, and Thomas Martin, indicate that their mother was born "at sea", indicating that she was born during the immigration from Ireland.
Married: James S. Morrow (1846-1902) c1866, based on DOB's of children
Died: 16 November 1901, Based on gravestone.
Burial: Riverside Cemetery, Spencer, IA.
Ellen's parents are not known. They are believed to have immigrated to America in 1847, at the start of the Irish Potatoe Famine. There is a Henry Stackpole (1828-?) in Waterbury in 1860 who could conceivably be Ellen's father. He was, however, born in Maine, and is presumed to be unrelated.
Child List
Edit
Family History
Edit
References
Edit
Contributors
Edit
Ad blocker interference detected!
Wikia is a free-to-use site that makes money from advertising. We have a modified experience for viewers using ad blockers

Wikia is not accessible if you've made further modifications. Remove the custom ad blocker rule(s) and the page will load as expected.