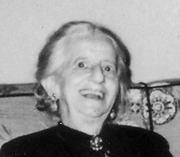 Eloise Ensko (1882-1966) was a bank clerk at the Empire Trust Company at 580 Fifth Avenue in Manhattan. (b. October 06, 1882, New York, USA - d. May 17, 1966, 7:35 pm, Jackson Heights, Queens County, New York, 11372, USA) Social Security Number 086093095.
She was born on October 6, 1892 according to her application for Social Security that was filed on November 24, 1936. However her Social Security Death Index entry has her born in 1882.
She never married.
Her funeral notice appeared in the New York Times on May 21, 1966 on page 24: "Ensko — Eloise, in Princeton, N.J. on May 17, 1966, aunt of Arthur W. and Charles E. Ensko and Eloise E. Higgins. Services, Saturday, May 21 at 9 A.M. The Universal Funeral Chapel 52d St. and Lexington Ave. Interment Hackensack Cemetery, Hackensack, N.J."
1936 Living at 552 West 171st Street in Manhattan
1936 Working as a bank clerk at the Empire Trust Company at 580 Fifth Avenue in Manhattan on November 24, 1936
1936 Applied for Social Security account on November 24, 1936
External link
Edit