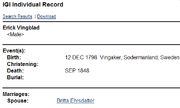 Erick Vingblad (1798-1848) of Vingåker
He was born on December 12, 1798 in Vingåker, Sodermanland, Sweden according to the International Genealogical Index. The record has not been found in the Västra Vingåker parish churchbook or the Östra Vingåkers parish churchbooks.
Potential sibling
Edit
September 1848
Ad blocker interference detected!
Wikia is a free-to-use site that makes money from advertising. We have a modified experience for viewers using ad blockers

Wikia is not accessible if you've made further modifications. Remove the custom ad blocker rule(s) and the page will load as expected.