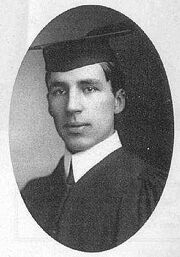 Spouse(s)
Edit
Child list
Edit
Eleanor Van Cott
William Van Cott
Family history
Edit
Ernest Van Cott was the youngest of the children of Laura and John. He was born December 18, 1875, grew up and married May Siddoway. He became a very good physician-surgeon in the Salt Lake region.
He brought most of his nieces and nephews into the world and was called often in the early days to take care of their sniffles, bouts with measles, pneumonia, and whatever. He liked to fish and hunt and would bring them a duck once in a while to clean, bake, and eat.
He died August 27, 1924 of a heart attack while trying to start his car out on the road. He was returning from a fishing trip.
References
Edit
Contributors
Edit
Ad blocker interference detected!
Wikia is a free-to-use site that makes money from advertising. We have a modified experience for viewers using ad blockers

Wikia is not accessible if you've made further modifications. Remove the custom ad blocker rule(s) and the page will load as expected.