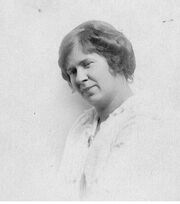 Ester Amanda Linnéa Sjögren was born March 3 1882 in Ronneby parish, Blekinge county.
Karl Magnus Sjögren (1853-1938)
Vilhelmina Judith Amanda Sjögren b. Englander (1855-1943).
Karl Henrik Louis (1880-1968)
Ruth Amanda Naëmi (1884->/=1918)
Nanny Amanda Natalia (1887-1981), twin
Karl Ivar Rickard, (1887-1918), twin - drowned in the USA
Karl Hugo Albin (1888-1964)

Emigration
Edit
Ester emigrated to the USA on August 23 1900. She embarked in Malmö (Malmöhus county), her address was 'Boston' and her occupation 'servant'. Returned to Sweden in 1911 and later that year following her sister Ruth on her emigration to the USA. Data base 'Emigrant 1' (Swedish) says they both left from 'Vatö parish' in Uppland county, where Ruth had been domiciled for a couple of years. After World War II Ester went back to Sweden spending her last years in Kristianstad county (Ängelholm?).
Death and Burial
Edit
Ester died in Ängelholm in Kristanstad county (today Skåne county) on February 17 1966 and was buried at Barkåkra cemetery nearby Ängelholm. In the same grave rests her brothers Henrik and Hugo. This is also the cemetery where the father Karl Magnus was buried in 1938.
Biography
Edit
After the parents' divorce in January 1893 Ester and her sister Ruth lived with the father and the youngest child Hugo with the mother, while the twins Nanny and Ivar was fostered by two different maternal aunts, all living in their hometown Ronneby. This owing to the Swedish census of 1900.
In a letter to her father in 1918 she tells about her brother Ivar's death at sea, as it was described for her by his employer and shipmates. World War I and the pandemic Spanish flu had made life quite unbearable for many people. Ivar's accidental drowning and Ester's own illness added made this letter a cheerless epos.
The writer of these lines, a grandchild of Ester´s sister Nanny, met Ester in Skälderviken (today Skåne county) in summer 1955. I passed the place for her father's house and saw a lady sitting in the garden. "My grandmother is here!" I thought. But it was Ester, whom i never had met before. We spoke for a while, mostly in English, which I soon understood that she preferred.