Esther Larby
was born
1837
in
Aldershot
,
Hampshire
,
England
,
United Kingdom
to
Henry Larby (1814-1837)
and
Esther Fludder (1816-1868)
and died
1901
in
Walton-on-Thames
,
Surrey
,
England
,
United Kingdom
of unspecified causes. Ancestors are from the
United Kingdom
.
Children
Offspring of Esther Larby and unknown parent
Name
Birth
Death
Joined with


William James Larby (1860-)


Frederick Wilson (c1865-1912)


George Larby (1870-1937)
1870 Eton, Buckinghamshire, England, United Kingdom
23 August 1937 Sunbury-on-Thames, Middlesex, England, United Kingdom
Ada Louisa Annett (1879-)


Emily Larby (1872-1943)
1872 Egham, Surrey, England, United Kingdom
1943 "Studley" Kings Road, Walton-on-Thames, Surrey, England, United Kingdom
Ernest George Smith (1875-1942)


Fanny Maria Wilson (1875-1899)
1875 Kingston upon Thames, Surrey, England, United Kingdom
1899 Walton-on-Thames, Surrey, England, United Kingdom
Early Life
Esther Larby was christened on 1 October 1837 in Aldershot, Hampshire, England. Her parents were Henry Larby (1813-1837) and Esther Fludder (1817-1868), who were married on 9 January 1836 in Aldershot. Her mother married William Patrick (1818-1893), a bricklayer in 1842. Because of her parents shortlived marriage, Esther had no full siblings. Through her mother's second marriage however, Esther had several half-siblings:
Frederick Patrick (1851-?)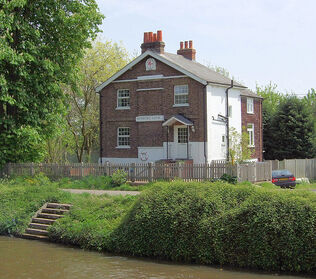 Speculation
Although she had at least seven children by at least three different men, and at different stages was known as Esther Larby, Esther Challis and Esther Wilson, she never married. Her first child was born illegita<noinclude> </noinclude>mate in 1860 with the surname Larby and shortly after she began living with Ambrose Challis, a farm labourer. They had two daughters but had separated after the second, Mary, was born in 1867. They were living seperatly by 1871. Esther also had a son, Frederick during that time. No birth can be found for him, but he always used the surname Wilson. A son George followed in 1870, he was born as Larby but always used Wilson. In 1872 Emily was born, and she later said her father died when she was very young and her mother 'remarried' to a Mr. Wilson. After that, the family (including all previous siblings) began using Wilson as their surname, with one exception of Mary's marriage in 1888 when she used Larbey. By 1881 Esther is listed as widowed on the census. Does this refer to her first 'husband' Ambrose Challis or her second 'husband' Wilson? She died in 1901 under the name Esther Wilson.
Footnotes (including sources)