Ezra James Clark
was born
29 March
1846
in
Montrose
,
Lee County
,
Iowa
,
United States
to
Ezra Thompson Clark (1823-1901)
and
Mary Stevenson (1825-1911)
and died
14 July
1868
in
Fonda
,
Montgomery County
,
New York
,
United States
of unspecified causes. Ancestors are from the
United States
, the
United Kingdom
.
Biography
Ezra James Clark, one of the Elders of The Church of Jesus Christ of Latter-day Saints who died in the missionary field, was born Feb. 30, 1846, in Lee County, Iowa, the son of Ezra Thompson Clark (1823-1901) and Mary Stevenson (1825-1911). In 1848 his parents migrated to Great Salt Lake Valley and settled at Farmington, Davis County, Utah, where he was reared in the midst of the Saints, and under the influence of good teaching became a much respected youth. He was baptized by Elder Jesse Hobson when eight years old, and afterwards became a member of the 40th quorum of Seventy, and of the Farmington Lyceum and Dramatic Association.
European Mission 1865-68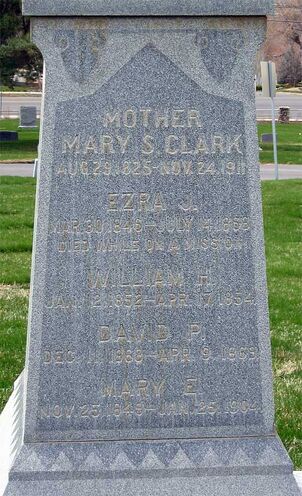 On the 6th of April, 1865, he was called to go on a mission to Europe, cheerfully obeying the call. He landed in Liverpool on the 11th of the following August, and was appointed to labor in the Worcestershire conference as a traveling Elder. On the 30th of January, 1866, he was appointed to preside over the Dorsetshire conference, and on the 21st of March, 1867, was removed to the presidency of the Kent conference.
In each of these positions he labored faithfully and with earnest zeal, gaining the confidence and esteem of the Saints among whom he labored, and of those who presided over him in the British Mission. His modest, unassuming manner, combined with his truthfulness and circumspect conduct, won for him the admiration and good will of all his associates. Ezra James was a thrifty missionary. He was a pal to such men as Orson Whitley Pratt (1811-1881) and Franklin Dewey Richards (1821-1899).
Death in New York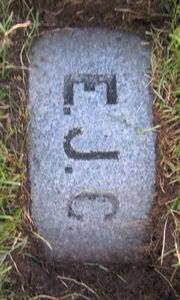 On the 30th of June, 1868, he took passage on board the steamship "Minnesota," having been honorably released from his labors in England, with permission to return home. He was appointed first counselor to Elder John Parry, president of the company of Saints on board, and discharged his duty to the best of his ability, although his health was poor during the voyage. He landed in New York on the 12th of July, and exerted himself beyond his strength in assisting those who were unable to help themselves. The heat was very intense when he started with the Saints on the railroad for the west, and at Albany, New York he complained of a severe pain in the head, which rapidly grew worse, and in a few hours he expired in the arms of his brethren on July 14, 1868, at Fonda, New York.
A year later his remains were shipped to his home in Farmington, Utah for interment. He died unmarried, but was known as an exceptionally good and exemplary young man. President Brigham Young (1801-1877) spoke at his funeral.
Siblings
Offspring of Ezra Thompson Clark and Mary Stevenson (1825-1911)
Name
Birth
Death
Joined with


Ezra James Clark (1846-1868)
29 March 1846 Montrose, Lee County, Iowa, United States
14 July 1868 Fonda, Montgomery County, New York, United States


Timothy Baldwin Clark (1847-1924)
21 November 1847 Winter Quarters, Douglas County, Nebraska, United States
14 February 1924 Salt Lake City, Salt Lake County, Utah, United States
Lucy Augusta Rice (1850-1928)


Mary Elizabeth Clark (1849-1904)


William Henry Clark (1852-1854)


Joseph Smith Clark (1854-1957)


Hyrum Don Carlos Clark (1856-1938)


Edward Barrett Clark (1859-1955)
7 April 1859 Farmington, Davis County, Utah, United States
16 September 1955 Farmington, Davis County, Utah, United States
Wealthy Richards (1861-1940)
Alice Randall (1863-1938)


Charles Rich Clark (1861-1933)


Wilford Woodruff Clark (1863-1956)


Amasa Lyman Clark (1865-1968)


David Patten Clark (1868-1869)
References
LDS Biographical Encyclopedia, Andrew Jenson, Vol. 3, p. 345 - Clark, Ezra J
Ezra Clark at Find a Grave #137348
Footnotes (including sources)
Contributors
Ad blocker interference detected!
Wikia is a free-to-use site that makes money from advertising. We have a modified experience for viewers using ad blockers

Wikia is not accessible if you've made further modifications. Remove the custom ad blocker rule(s) and the page will load as expected.