Faith Clarke
was born circa
1619
in (prob. England) to
Thurston Clarke (1590-1661)
and
Faith Loes (1597-1663)
and died
21 December
1675
in
Marshfield
,
Plymouth County
,
Massachusetts
of unspecified causes. She married
Edward Doty (bef1600-1655)
6 January 1635 in
Plymouth
,
Massachusetts
.
Biography
1634 Voyage to America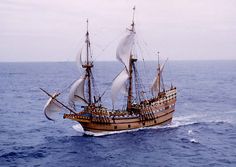 Faith Clarke was a passenger on the English ship Francis, which sailed from Ipswich in 1634, bound for New England. (See passenger #64 on the manifest - age 15. Her father is listed there separately. The ship arrived safe at Massachusetts Bay. She is listed on the roll as "ward of J. Pease", indentured servant?
Father's Story
A sad story about her dad, Thurston. He and Faith (age 15) came to America on the "Francis" in 1634. The ship sailed from Ipswich about the last of April with John Cutting, Master. In 1661, Thurston frozed to death on his way from Plymouth, Massachusetts to Duxbury, Massachusetts in 1661.
SOURCE for ship, the Master, Thurston and Faith: The Planters of the Commonwealth by Charles Edward Banks, Genealogical Pub. Co., Inc, pub 1930.
Marriage and Family
1st Marriage: Edward Doty
Her first marriage was to Mayflower pilgrim Edward Doty (bef1600-1655), his second wife.
2nd Marriage: John Phillips
Her second marriage was to John Phillips (1602-1682), his third wife. He was a early settler honored on the Green Harbor Monument.
Offspring of Edward Doty and Faith Clarke (c1619-1675)
Name
Birth
Death
Joined with


Edward Doty (bef1638-aft1688)
1638 Plymouth, Massachusetts
1688
Sarah Faunce (c1645-1695)


John Doty (c1640-1701)
1640 Plymouth, Massachusetts
8 May 1701 Plymouth, Massachusetts
Elizabeth Cooke (1648-1692)
Sarah Jones (1671-)


Thomas Doty (c1641-1678)
1641 Plymouth, Massachusetts
December 1678 Plymouth, Massachusetts
Mary Churchill (1654-aft1724)


Samuel Doty (c1643-1715)
1643 Plymouth, Massachusetts
1715 Piscataway Township, New Jersey
Jane Harmon (c1660-aft1716)


Desire Doty (c1645-1731)
1645 Plymouth, Massachusetts
22 January 1731 Plymouth, Massachusetts
William Sherman (c1640-1680)
Israel Holmes (c1642-1683)
Alexander Standish (1627-1702)


Elizabeth Doty (c1647-1742)
1647 Plymouth, Massachusetts
7 April 1742 Marshfield, Massachusetts
John Rouse (1643-1717)
William Carver (1659-1760)


Isaac Doty (c1648-aft1727)
8 February 1648 Plymouth, Massachusetts
7 January 1728 Oyster Bay, New York
Elizabeth England (?-aft1693)


Joseph Doty (1651-c1732)
30 April 1651 Plymouth, Massachusetts Bay Colony
1732 Rochester, Massachusetts Bay Colony
Deborah Ellis (c1652-1711)
Sarah Woodin (1656/7-aft1733)


Mary Doty (c1653-bef1729)
1653 Plymouth, Plymouth County, Massachusetts, United States
11 December 1715
Samuel Hatch (1653-1735)
Eleazer Churchill (1652-1716)

,
Siblings
References
Duxbury Gravestone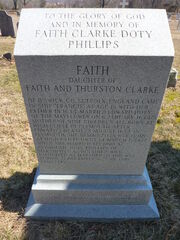 Last Will
Calling herself the wife of John Philips of Marshfield, Faith dated her will December 12, 1675 and died on December 21, 1675. The will was sworn June 6 – probably 1676, and named her daughters Mary, Elizabeth, and Desire, and her son John. On November 4, 1676, letters of administration were granted to her son-in-law John Rouse, Jr. of Marshfield, husband of her daughter Elizabeth. She was buried in Winslow Cemetery, Marshfield, Mass. where there is an existent memorial stone for her.
References
Footnotes (including sources)
| | |
| --- | --- |
| ‡ General | Mayflower Families Through Five Generations Vol. 11. Edward Doty. Plymouth MA: General Society of Mayflower Descendants, 1996. |
Contributors