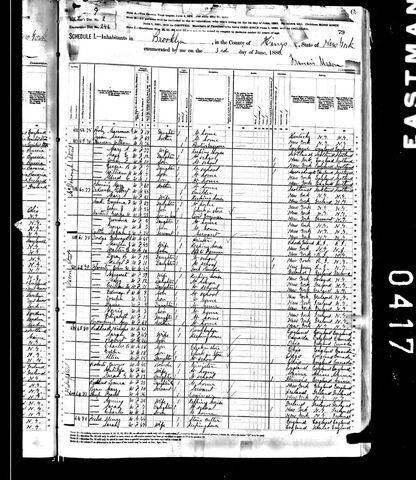 Name: Emma F. Martin [Emma F. De Revere] Home in 1880: Kings (Brooklyn), New York City-Greater, New York Age: 27 Estimated Birth Year: abt 1853 Birthplace: New York Relation to Head of Household: Daughter Father's Name: Gilbert Father's birthplace: New York Mother's Name: Mary A. Mother's birthplace: New York Neighbors: View others on page Occupation: At Home Marital Status: Married Race: White Gender: Female Cannot read/write:
Blind:
Deaf and dumb:
Otherwise disabled:
Idiotic or insane:
View Image Household Members: Name Age Gilbert De Revere 55 Mary A. De Revere 51 Emma F. Martin 27 John J. De Revere 24 George W. Martin 33 Emma Martin 5 George W. Martin 3 Sarah J. Tuttle 25
Appears on these pages

of
Emma Frances de Revere (1853-1910) Gilbert de Revere (1825-1890) Mary Anne McComb (1829-1888...

George Washington Martin, Jr. (b. June 25, 1876 - d. November 21, 1948) was a prominent lawyer...

George Washington Martin, Sr. (1847-1910) Jonas Amos Martin (1821-1862) Marion Betts (1829-1913...
File history
Click on a date/time to view the file as it appeared at that time.