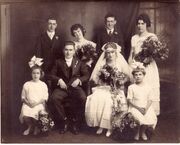 Francis Joseph Woods (1891-1972) aka Frank Woods; Vice President, Leo Burnett Advertising Agency (b. November 03, 1891, Chicago, Cook County, Illinois, USA - d. November 1972, Wilmette, Cook County, Illinois, 60091, USA) Social Security Number 338071868.
He married Margerite Jensen (1891-1986), aka Daisy Lorraine Jensen in 1918 and had one child: Sheila Mary Woods (1932-1990). They appear in the 1930 US Census living in Chicago.
Calvary Cemetery, Evanston, Cook County, Illinois, USA
Ad blocker interference detected!
Wikia is a free-to-use site that makes money from advertising. We have a modified experience for viewers using ad blockers

Wikia is not accessible if you've made further modifications. Remove the custom ad blocker rule(s) and the page will load as expected.