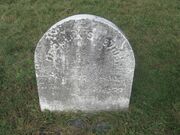 Biography
Edit
Frederick Stothoff Nevius was born on September 27, 1830 at Readington, Hunterdon County, New Jersey. He was the son of Minna Nevius and Joanna Stothoff. Frederick married Jane Maria Kershaw, daughter of Abraham Kershaw (1811-1883) and Rebecca Gano, on October 29, 1856. Frederick Stothoff Nevius was a farmer and miller. He died on October 27, 1877 at age 47.
External link
Edit
Ad blocker interference detected!
Wikia is a free-to-use site that makes money from advertising. We have a modified experience for viewers using ad blockers

Wikia is not accessible if you've made further modifications. Remove the custom ad blocker rule(s) and the page will load as expected.