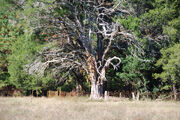 Geer Family Cemetery in Greene County, Georgia is the burying ground of
David Geer (1791-1855)
and
Sarah Greer (1805-1826)
of Penfield and their descendants. The cemetery is located on the antebellum plantation established by David Geer after 1800 when he and his brother,
William Geer (c1776-1844)
, settled in Greene County from North Carolina.
GEER FARM AND HOME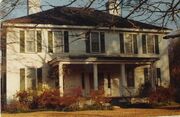 The diversified farming operation included nearly 316 acres and home exhibiting architectural transition from the Federal to the Greek revival period. The double front doors, with sidelight windows, lead into a grand foyer with French. Each room has built-in cabinets and heart pine floors. Eight fireplaces, each with a different mantel motif, add warmth to the 5 bedrooms, parlor, dining room/library and kitchen. The original kitchen, that stood behind the main house until the late 1930's, was connected to the house by a raised open breezeway. Under the house a corner was dug out to form a root cellar and enclosed with a wattle and daub combination of hand-hewn beams and clay. Large hand-hew beams fitted with pegs, hold the entire house together like a giant puzzle. The clapboards on the outside of the house were also hand hewn, as were the bricks that were covered with mortar. In the attic rest the mortise and tenon supports for the hipped roof. They form an "X" under the main part of the roof, while smaller supports fit under the outlying portions of the roof. The original roof was made of pine shakes. From the bricked sun room one sees the most beautiful southern vistas of wild azaleas and dogwoods in the spring. The home overlooks a six acre pasture, a barn and 1 acre pond stocked with hybrid brim and bass. Across the road lies the six acre north pasture that includes a four stall barn with hay storage, tack room and the family cemetery.
Ad blocker interference detected!
Wikia is a free-to-use site that makes money from advertising. We have a modified experience for viewers using ad blockers

Wikia is not accessible if you've made further modifications. Remove the custom ad blocker rule(s) and the page will load as expected.