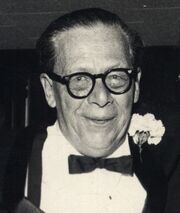 George Matthew Donovan (1905-1976) Electrician (b. March 5, 1905; New York, USA - d. September 6, 1976, New York, USA) Social Security Number 067054686.
Dorothea Donovan (c1911-c1945) aka Sally Donovan, who married Frank Woodruff.
Eleanor M. Goetz on November 01, 1930.
Occupation
Edit
Employed at New York Daily News for 50 years as an electrician. He worked on the presses, and was a member of the Electrical Workers Union.
Died of lung cancer at Parkway Hospital, Queens, New York.
Buried in St. John's Cemetery, Queens, New York.
External link
Edit
Ad blocker interference detected!
Wikia is a free-to-use site that makes money from advertising. We have a modified experience for viewers using ad blockers

Wikia is not accessible if you've made further modifications. Remove the custom ad blocker rule(s) and the page will load as expected.