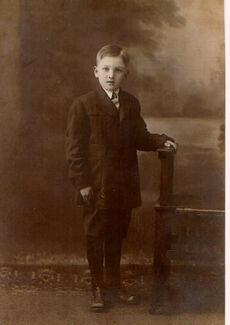 Born: 20 April 1910, Holland, Ottawa County, Michigan
Died: 24 February 1987, Richland, Kalamazoo County, Michigan
Burial: Yorkville Cemetery, Yorkville, Kalamazoo Co, Michigan
Marriage 1
Edit
Marriage 2
Edit
Notes and references
Edit
Gerald had been the son of Dick and Jennie Langejans and the husband of Ardith who had preceded him in death. He was the father of Donald; Scott, Marilyn, Barbara Michaels and Joyce Baker and the step-father of Richard; David, Douglas, Marcia Bogema and Mary Freed. At the time of his death he was also the grandfather of 12; great-grandfather of 11 and step- grandfather of 10 children. WOW! Gerald had been a resident of Richland for 30 years and had worked for the National Waterlift Company for 18 years before retiring in 1972. He was a member of the Yorkville Community Church, a past Master of the Richland Masonic Lodge F and A.M. No. 217 and was also a member of V.F.W. Dad's No. 236 in Comstock, MI.
Ad blocker interference detected!
Wikia is a free-to-use site that makes money from advertising. We have a modified experience for viewers using ad blockers

Wikia is not accessible if you've made further modifications. Remove the custom ad blocker rule(s) and the page will load as expected.