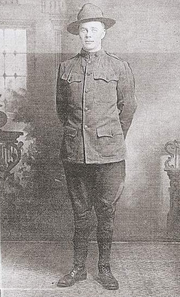 Gilbert Wintrone (1888-1918) died of pneumonia in France during the 1918 flu pandemic while in the United States Army during World War I. (b. February 10, 1888, Barron, Barron County, Wisconsin, USA - d. October 05, 1918, World War I, France)
World War I
Edit
Gilbert worked in Eau Claire, Wisconsin when he registered for the draft on June 05, 1917. He was working as a foundry helper at the Phoenix Manufacturing Company in Eau Claire, Wisconsin. He was tall and of medium build and had blue eyes and light brown hair.
He was died of pneumonia during the influenza pandemic while in the US Army during World War I, and he was buried in the New Scandanavia Cemetery in Dallas, Wisconsin.
Ruth Wieland wrote on August 20, 2012: "I visited with Uncle Carl (Dallas, WI) last week. He showed me two pictures of Norval Wintrone and told me the story as told to him. (As you may recall, Carl was born in 1918 and does not remember the death/s. As he heard from other family members, Gilbert died first ( He was an ambulance driver in WWI.) When his body was returned, the casket was sealed. Gertie Grindy wanted to see his body and Norval opened the casket. After that, both Norval and his wife returned to their home. Norval thought he had recovered from being ill, lifted a bag of oats or something, set it down and died."
Wisconsin's Gold Star List Soldiers, sailors, marines and nurses casualties for WWI: "Wintrone, Gilbert, 30, Eau Claire; Student Army Training Corps, Kansas City; U.S.; died of disease (pneumonia) October 5, 1918"
External links
Edit