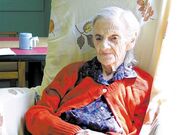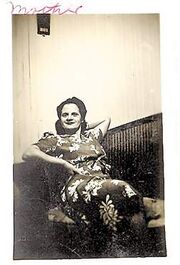 Gladys Irene Piatt (1899-2009 ) was a centenarian, she lived to be 109 years old.
Biography
Edit
The year Gladys married her husband, Millard, World War I was raging in Europe. Times Herald-Record; April 28, 2008. Middletown. Gladys DeGroat has lived to see two new centuries and a new millennium ushered in. She celebrated her 109th birthday a week ago on April 21. DeGroat is believed to be the oldest person in the Hudson Valley. DeGroat lives at Park Manor Rehabilitation and Health Care Center in Middletown. "She's feisty," said Theresa Wintermeyer, a nursing assistant. "She's hard of hearing, but understands what's going on around her. And she can walk, too." The staff of Park Manor said they treat DeGroat like a queen, but she cusses like a sailor when she's annoyed. "When I was a girl, the harshest thing I ever heard her say was 'damn'," said her 70-year-old granddaughter, Beverly Walsh. "I think she started cursing after she lost her only (daughter) — my mother — in 2001. She had a son, but he died when he was 18. She's outlived everyone." DeGroat was born in Culvertown (now Westbrookville) in Sullivan County on April 21, 1899. To put that year in perspective, there were no paved roads or cars in the valley, just horses and buggies. If a family didn't own a farm, the country store sold a dozen eggs for 20 cents and a half-gallon of milk for 13 cents. She was a year old at the dawn of the 20th century. She attended a one-room schoolhouse on lower Pinekill Road. Children from grades one-eight learned together from one teacher. When she married Millard DeGroat, in 1917, World War I was into its third year in Europe. When Millard died in 1981, they had been married for 64 years. DeGroat has lost loved ones, but she is not alone — four grandchildren survive. She also has nine great-grandchildren, 14 great-great-grandchildren and seven great-great-great grandchildren.
Ad blocker interference detected!
Wikia is a free-to-use site that makes money from advertising. We have a modified experience for viewers using ad blockers

Wikia is not accessible if you've made further modifications. Remove the custom ad blocker rule(s) and the page will load as expected.