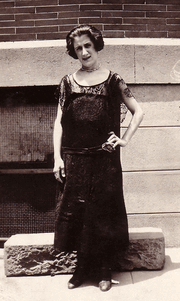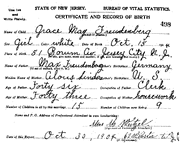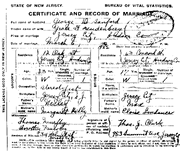 Grace May Freudenberg (1904-1981) Housewife (b. October 15, 1904, 51 Booraem Avenue, Jersey City, Hudson County, New Jersey, 07307-1809, USA - d. May 07, 1981, Hackensack Hospital, 30 Prospect Avenue, Hackensack, Bergen County, New Jersey 07601-1915, USA) Social Security Number 140226973.
Eloise and Max had 15 children, 9 lived to adulthood, and 5 of them had children and grandchildren. One child that died at birth has still not been found. The children were:
On March 05, 1922 she married George Dewey Sanford I (1898-1965) a printer who worked with Ralph Kohlman (1885-1957). Ralph was married to her sister, Ada Augusta Freudenberg (1884-1957). Grace and Ralph married in Jersey City.
Jersey City
Edit
Grace lived at 90 Laidlaw Avenue in Jersey City in 1935 when her mother died, and she was living at 108 Poplar Street in Jersey City in 1946 when she applied for Social Security.
Maywood, New Jersey
Edit
Grace and George had moved to West Pleasant Avenue in Maywood in Bergen County by time her sister Clara died in 1959.
Grace died of "congestive heart failure with diabetes" in Hackensack Hospital in Hackensack, New Jersey. She was buried at Cedar Lawn Memorial Park at Arlington Memorial Cemetery at 748 Schuyler Avenue in Kearny, Hudson County, New Jersey and was buried next to her husband.
Ad blocker interference detected!
Wikia is a free-to-use site that makes money from advertising. We have a modified experience for viewers using ad blockers

Wikia is not accessible if you've made further modifications. Remove the custom ad blocker rule(s) and the page will load as expected.