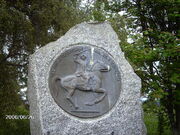 Captain Gustaf Örbom (1732-1807) Kapten Gustaf Örbom was born 25 Feb 1732/33 in Rödögården, Rödön, Jämtland, Sweden; died 15 Jun 1807 in Odensala, Brunflo, Jämtland, Sweden. He was the son of Kapten Anders Örbom (1675-1740) and Anna Elisabet von Rohr (1701-1767). He married Sophia Lovisa Winnberg (1744-1831) 25 Mar 1762 in Brunflo, Jämtland, Sweden.
Korpral vid Jämtlands regemente 1749, Rustmästare 1751, Förare 1753, Sergeant 1756, Fältväbel 1768.
Ad blocker interference detected!
Wikia is a free-to-use site that makes money from advertising. We have a modified experience for viewers using ad blockers

Wikia is not accessible if you've made further modifications. Remove the custom ad blocker rule(s) and the page will load as expected.