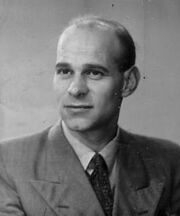 Gustav Vilhelm Haglund was born on July 24 1911 in Falköping, Västergötland county, Sweden.
Sven Johan Haglund, b. Andersson in Ljusseveka, Haga (Värnamo), Sweden Nov 1 1879, d. in Almunge, Uppland Dec 8 1915.
Nanny Amanda Natalia Haglund, b. Sjögren in Ronneby, Sweden Feb 7 1887, d. in Jönköping, Sweden Aug 8 1981.
Edith Dagmar Maria (1908-2000), b. in Falköping, d. in Härnösand, Sweden.
Nils Ragnar (1910-1998), b. in Falköping, d. in Skärstad, Jönköping, both Sweden.
Anders Haglund (1915-1976) Anders Valter (1915-1976), b. in Almunge, Uppland, d. in Gävle, both Sweden.
Cerny Asta Carola (1921-2009), maiden name Haglund, married Lindh, b. and d. in Jönköping. Maternal sister.
Married in Jönköping 1938 to Majken Anna-Lisa Johansson. Divorced April 7 1955. Majken Anna-Lisa born November 19 1919 in Jönköping, remarried and d. as Wibard June 15 1978 in Bromma, Stockholm.
Åke Göran b. May 31 1938 in Ljungarum parish, Jönköping county, d. September 9 1996 in Huddinge, Stockholm county.
Professional life
Edit
Gustav´s first job was as a farmer hand in the Eksjö region, where he had been brought up in a foster home since he was 9 (see mother Nanny), before he became a factory worker at 'Husqvarna Vapenfabrik'.
From appr. 30 years of age he was a 'security officer', working in Nässjö, Nyköping and Stockholm.
In the early 30´s he built roads in Blekinge county with his brother Nils and like him by correspondence courses passed an examination as a road master (Sw: vägmästare). For some reason he never worked in this area.
June 9 1980 in Huddinge, Stockholm county.
Skogskyrkogården, Stockholm July 11 1980, block/kvarter 47, grave number 28415E.
Lat 59° 16' 27,1" N Lon 18° 6' 32" .
Biography
Edit
Ad blocker interference detected!
Wikia is a free-to-use site that makes money from advertising. We have a modified experience for viewers using ad blockers

Wikia is not accessible if you've made further modifications. Remove the custom ad blocker rule(s) and the page will load as expected.