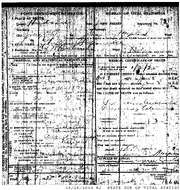 Gustav Schneider (1874-1925) aka Gustave Schneider, worked at an express company. (b. September 30, 1874, Bielefeld, North Rhine-Westphalia, Germany - d. circa January 05, 1925, Jersey City, Hudson County, New Jersey, USA)
He was the son of August Schneider and Henrietta Hulsmann of Bielefeld, North Rhine-Westphalia, Germany.
Heinrich Schneider (c1876-?) who moved back to Bielefeld; Pauline Schneider (c1878-c1932) who married Henry Ingelmann; Theodore Schneider (c1880-?); and Emil August Schneider (1886-1955) who married Inga Karoline Eldora Pedersen (1882-1927) and after her death married Margaret Jacobsen (1896-1989).
Jersey City, New Jersey
Edit
Gustav appears in the Jersey City, New Jersey Directory, for 1891 and was listed as working at an "express" company and living at 372 5th Avenue with August Schneider who works with soaps.
He married Wilhemina Molle (1877-1933) around 1897.
Gustav arrived in New York from Bremen, Germany on September 26, 1905 aboard the ship "Grosser Kurfurst". With him were: his wife, Wilhelmine Molle (1877-1933); and two children: Erich Schneider (1898-?); and Clara Schneider (1900-?). On the ship manifest it says he was visiting his brother: Heinrich Schneider who was living at 104 8th Avenue in New York City.
In 1925, at the time of his death he was living at 3478 Boulevard in Jersey City.
Gustav was buried January 08, 1925 in Fairview Cemetery, Fairview, New Jersey in the family plot.