Hannah Cox
was born
15 February
1846
in
Buckinghamshire
,
England
,
United Kingdom
to
Richard Goodman Cox (1805-1894)
and
Elizabeth Cowley (1809-1869)
and died
26 July
1928
in
Lawrence
,
New South Wales
,
Australia
of unspecified causes. She married
John Ensbey (1842-1914)
1 October 1865 in
Grafton
,
New South Wales
,
Australia
. Ancestors are from the
United Kingdom
.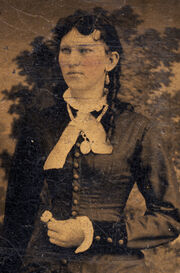 She arrived in Australia 4 Nov 1848 on the Emperor.
Children
Footnotes (including sources)
Ad blocker interference detected!
Wikia is a free-to-use site that makes money from advertising. We have a modified experience for viewers using ad blockers

Wikia is not accessible if you've made further modifications. Remove the custom ad blocker rule(s) and the page will load as expected.