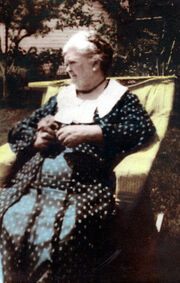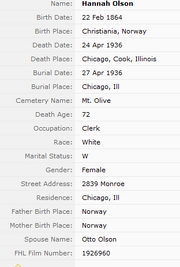 Hannah E. Hansen (1864-1936) aka Hanne Amundsen, Emigrated from Norway in 1880 (b. February 22, 1864; Oslo, Norway - d. April 24, 1936; Chicago, Cook County, Illinois, USA)
Hannah was born in Oslo, Norway possibly to Amund Hansen.
She had at least three other siblings that emigrated with her: Carrie Hanson whose daughter, May, married Eden T. Brekke (1893-1978); Ole C. Hanson (1870-?) who lived in Dallas, Barron County, Wisconsin and had several children; and a sister who lived in Seattle, Washington.
Hannah married Otto Olson (1858-1921) on September 04, 1884 in Chicago at Our Saviour's Lutheran Church at 138th Street and Wabash Avenue.
Chicago, Illinois
Edit
In 1900 Otto and Hannah were living at 167 Milwaukee Avenue, Chicago, Cook County, Illinois with their four children. On February 13, 1910 it appears that Hannah was returning from a trip to Scandinavia by way of Liverpool, England aboard the ship "Campania".
Death of husband
Edit
In 1921 her husband died and in 1930 Hannah, now a widow was living with her son, Harry, a widower; and Hazel Wintrone who was the daughter of Tille. They were living at 1227 Mozart Street in Chicago.
Hannah died on April 24, 1936.
Funeral notice
Edit
Her funeral notice was in the Chicago Tribune on Sunday April 26, 1936 read as follows:
Hannah Olson nee Admundsen, wife of the late Otto, beloved mother of the late Mrs. Tillie Wintrone, Harry, Mrs. Mabel Clay, Norman, Helen, and Hazel Wintrone. Funeral services Monday 1 p.m. at chapel 2906 Madison Street. Interment Mount Olive.
She was buried on April 27, 1936 at Mount Olive Cemetery at 3800 North Narragansett Avenue in Chicago in the same plot as her husband Otto.
External links
Edit
Ad blocker interference detected!
Wikia is a free-to-use site that makes money from advertising. We have a modified experience for viewers using ad blockers

Wikia is not accessible if you've made further modifications. Remove the custom ad blocker rule(s) and the page will load as expected.