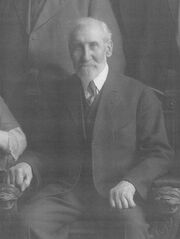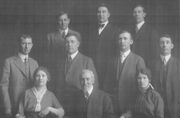 Hans Andersson Hemwall (1843-1921) (b. September 02, 1843, Brösarp, Skåne, Sweden - d. March 15, 1921, Chicago, Cook County, Illinois, 60630, USA)
He married Johanna Larsdatter (1853-1900) around 1870 in Sweden.
All the children were born in Sweden:
Emigration
Edit
The first to the US were Alfred and John, who came over in 1891 and they chose the name Hemwall. Nels, and the remaining family came to the US in 1898. The rest of the family came later. The oral family story has been that the first to come over looked in the City Directory and the pages were full of Hanssons, Hansons, and Hansens, so he made up the name Hemwall.
Hans died in 1921 and he is buried in Woodlawn Cemetery in Cook County, Illinois.
Ad blocker interference detected!
Wikia is a free-to-use site that makes money from advertising. We have a modified experience for viewers using ad blockers

Wikia is not accessible if you've made further modifications. Remove the custom ad blocker rule(s) and the page will load as expected.