In human genetics, Haplogroup B (M60) is a Y-chromosome haplogroup.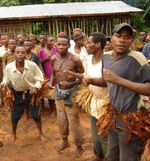 Haplogroup B is localized to sub-Saharan Africa, especially to tropical forests of West-Central Africa. After Y-haplogroup A, it is the second oldest and one of the most diverse human Y-haplogroups. It was the ancestral haplogroup of modern Pygmies like e.g. the Baka and Mbuti, but also Hadzabe from Tanzania, who are often mistakenly considered as a remnant of Khoisan people in East Africa.
External links
Edit
Ad blocker interference detected!
Wikia is a free-to-use site that makes money from advertising. We have a modified experience for viewers using ad blockers

Wikia is not accessible if you've made further modifications. Remove the custom ad blocker rule(s) and the page will load as expected.