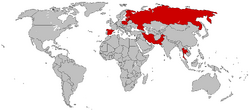 In human genetics, Haplogroup W is a human mitochondrial DNA (mtDNA) haplogroup.
Haplogroup W appears in the western Ural Mountains and the eastern Baltic, though it is also found in India as well as Spain, Finland, Poland, Iran, Pakistan and Thailand[1]. Its ancestral haplogroup was Haplogroup N.
References
Edit
See also
Edit
External links
Edit
Ad blocker interference detected!
Wikia is a free-to-use site that makes money from advertising. We have a modified experience for viewers using ad blockers

Wikia is not accessible if you've made further modifications. Remove the custom ad blocker rule(s) and the page will load as expected.