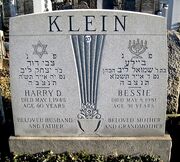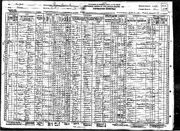 Harry D. Klein (1885-1945) Clerk at United Cigar Company (b. April 18, 1885, New York, USA - d. May 01, 1945; Bronx, New York) Social Security Number 057-05-7426.
Sarah Gartner of Hungary
Ignacz Klein of Hungary
He was born in New York in 1885 according to the 1930 census. His birth day was April 18, according to the family. His parents were from Hungary.
Samuel Klein (1895-1944)
Sadie Klein (1887-1944)
Morris Klein (1892-1899)
Jack Klein (1889-1976) who had two children with Helen Neidel: Seymour (1915-2012) and Blanche (1924-1989). Seymour married Lillian Schindler in 1938 and had a son, Ira. Blanche married Paul Wolinsky in the 1940s and had two sons, Michael H. and Eric S..
Alexander Klein (1900-1977) who lost an arm in an industrial accident in a machine, and he never married.
He married Bessie Greenstein (1891-1981) on March 12, 1911 in Manhattan. Their certificate was number "6256". Bessie emigrated in 1892 from Russia. She may have been born in 1888 or 1889 according to the oral family tradition, however Social Security uses the year 1891.
In 1930 they lived in the Bronx and he worked at United Cigar Company, they rented their apartment, and were paying $52.50 a month and owned a radio.
He died on May 01, 1945 in The Bronx. The certificate was number "4456". He was buried at Mount Zion Cemetery on May 02, 1945 in plot ROAD-37R.
External link
Edit