Full name
Edit
Herbery Mellville Hillman
Vital Statistics
Edit
Sex : Male
Born: February 24, 1872 at Onieda, New York, USA
Died: September 1, 1952 at Cuba, New York, USA at age 80
Height:
Weight:
Hair Color: Brown
Eye Color: Blue
Herbert Melville Hillman is the son of Harry D. Hillman (1828-1900) and Catherine E. Bennett (1842-1900).
Spouse(s)
Edit
Offspring
Edit
Biography
Edit
Family Life
Edit
Herbert was a Farmer, and he lived next to his granddaughter, Joan Hillman, so he spent a lot of time with her. He also spent a lot of time with his children, George and Don, and deeply loved his wife, Blanche.
Descendants
Edit
Don had Ken and Roy, Ken had Matthew and Scott, Roy had Hope and Laura, Matthew had Troy and Collin, and Scott had Ana and Nicholas. (for a longer line, see Don Hillman) [[1]]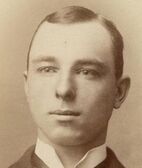 I am his Great, Great Grandson and I know living witnesses of his life.
There are historical government records.
Ad blocker interference detected!
Wikia is a free-to-use site that makes money from advertising. We have a modified experience for viewers using ad blockers

Wikia is not accessible if you've made further modifications. Remove the custom ad blocker rule(s) and the page will load as expected.