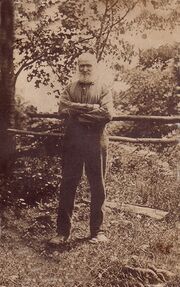 Herman Conklin (1865-c1930) aka Herman Conkling; Day Laborer (b. December 1865, Orange County, New York, 12785, USA - d. circa 1930, Orange County, New York, USA)
possibly Coe Conklin (1839-?)
He married Nora Belle Piatt (1874-1955) aka Belle Piatt.
They had a child: Nora Belle Conklin (1902-1963).
Sullivan County, New York
Edit
Herman and Nora appear in the 1900 Census under the name "Herman Conkling", living in Fallsburg, Sullivan County, New York where Herman is listed as a day laborer. His birthday is stated as December 1865 and they have been married for 10 years. Herman married when he was 24 and Nora was 16. They didn't have any children in 1900, their daughter, Nora Belle Conklin would be born in 1903.
He drank heavily, had a bad temper and beat his wife, so she left him.
Cattaraugus County
Edit
There was a "Hermon Conklin" born in 1865, living in Salamanca, Cattaraugus County, New York in the 1880 US Census who may be the same person. In the 1870 Census there was a "Herman P. Conklin" born in 1865, living in Randolph, Cattaraugus County, New York, but it is more likely he was living in the Westbrookville area.
He may have died around 1930 in Orange County, New York and it is not known where he is buried.
Ad blocker interference detected!
Wikia is a free-to-use site that makes money from advertising. We have a modified experience for viewers using ad blockers

Wikia is not accessible if you've made further modifications. Remove the custom ad blocker rule(s) and the page will load as expected.