Hoshangabad District
Talk

0
136,720pages on
this wiki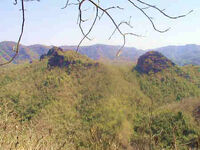 Hoshangabad District is one of the districts of Madhya Pradesh state of India, and Hoshangabad town is the district headquarters.
The district has an area 5408.23 km²., population 1,085,011 (2001 census), a 22% increase from 1991. Hoshangabad district is bounded by the districts of Raisen to the north, Narsinghpur to the east, Chhindwara to the southeast, Betul to the south, Harda to the west, and Sehore to the northwest. In 1998, the western portion of Hoshangabad District was split off to become Harda District.
The district lies in the Narmada River valley, and the Narmada forms the northern boundary of the district, Hoshangabad District is part of Bhopal division. The Tawa River is a tributary of the Narmada, rising in the Satpura Range to the south and flowing north to meet the Narmada at the village of Bandra Bhan. The Tawa Reservoir lies in the south-central region of the district.
Hoshangabad District is also home to Pachmarhi, a hill station and popular tourist spot in the Satpura Range in the southern part of the district. Pachmarhi was the summer capital of the British Raj Central Provinces and Berar.
The Pachmarhi Sanctuary (461.37 km²) is part of the larger Pachmarhi Biosphere Preserve, which extends into Betul and Chhindwara districts.
External link
Edit
seoni-malwa hill station
Coordinates

: 22°40′N, 77°30′Ewarning.pngUnsupported type "_geo" defined for property.