Howard Messerly
was born
3 September
1911
in
Webster County
,
Iowa
(Fort Dodge+ Webster+ Colfax+ Iowa) to
Walter Messerly (c1884)
and
Mayme Lang (1888)
and died
22 January
2001
in
Webster County
,
Iowa
(Fort Dodge+ Webster+ Colfax+ Iowa) of unspecified causes. Ancestors are from the
United States
.
Children
| | |
| --- | --- |
| | |
| 1925 Iowa Census: Howard M. Messerly listed in Home headed by Walter L Messerly age 41 and Mamie Messerly age 36 | 1925 Iowa Census folowing page, listing Mamie Lang as Walter's wife's birth name, Elizabeth Senn (switzerland) as Walter's mother. Mamie Lang's father's name is shown as Adam Lang (Germany) and mother also of Germany is Elizabeth with last name difficult to make out: "Schard, Seharg, S?ha(r?)??". |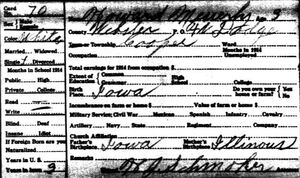 Footnotes (including sources)
Ad blocker interference detected!
Wikia is a free-to-use site that makes money from advertising. We have a modified experience for viewers using ad blockers

Wikia is not accessible if you've made further modifications. Remove the custom ad blocker rule(s) and the page will load as expected.