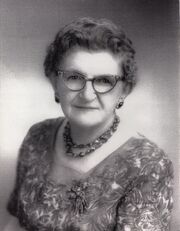 Ida Gilmore (nee Fuller) Geer was born September 3, 1892 in Waterloo, Laurens County, South Carolina, daughter of Harrison Calvin Fuller (1852-1938) and his second wife Ida Gilmore Fooshe (1867-1892) of Waterloo. She died January 20, 1981 in Arcadia, Bienville Parish, Louisiana. She was a sister to Estelle Fuller (1891-1911).
Ida married in Augusta, Richmond County, Georgia on March 18, 1922 at St. John's United Methodist Church William Frederick Geer (1885-1955), son of James Frederick Geer, Jr. (1856-1890) and Anna Tallulah Colclough (1855-1933) of Penfield, Greene County, Georgia. They resided in Augusta and are buried in Penfield Cemetery, Greene County, Georgia.
Ida was raised by her grandparents,
James Dudley Fooshe (1844-1940)
and
Mary Ann Fuller (1848-1918)
of Gracewood,
Richmond County, Georgia
, as her mother died when she was only ten days old. She learned to play the piano by taking a correspondence course and after graduating from Gracewood High School she attended State Normal College (now part of the
University of Georgia
, Athens,
Clarke County, Georgia
. After returning to Augusta, she went to work for the
United States Postal Service
and taught piano, arriving at pupils homes by horse and buggy. She was a member of the First Baptist Church, Augusta where she sang in the Sanctuary Choir and was a member of the Faith-Victory-Mizpah Sunday School Class. She was a member of the Woman's Missionary Union, Golden Years Club, National Association of Retired Federal Employees, Augusta Woman's Club, Augusta Garden Club, Silver Threads and the Elizabeth chapter of the Order of the Eastern Star. For many years she played the organ at the S&S Sunday School Class on Broad Street sponsored by First Baptist Church.
Fred and Ida Geer were the parents of four children all born in Augusta: 1) Dr. William Dudley Geer (1922-2003), Ph.D. married Lucy Elizabeth Durner (1927-2009); 2) Margaret Fuller Geer married Henry Rupert Sledge (1913-2002); 3) Rev. Robert Stokely Geer first married Edith Roberta Underwood (1928-1992) and secondly Mrs. Catherine Jeanne Satcher (1928-2007) Cole; 4) Harry Calvin Geer married Anita Carolyn Taylor.

Geer Family Reunion, Augusta, GA 1967 - First Row: Robert Frederick Geer, Mary Ann Geer, Margaret Ruth Geer, Paul Dudley Geer, James Fooshe Geer, Samuel Taylor Geer, Kathy Margaret Sledge; Second Row: John William Geer, Deborah Elizabeth Geer, David Calvin Geer, James Rupert Sledge, Sharlande Elizabeth Sledge; Third Row: Mrs. Anita Taylor Geer, Mrs. Roberta Underwood Geer, Mrs. Ida Fuller Geer, Mrs. Elizabeth Durner Geer, Mrs. Margaret Geer Sledge; Fourth Row: H. Calvin Geer, Rev. Robert S. Geer, Dr. William D. Geer, H. Rupert Sledge