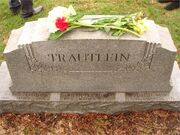 Isabelle Trautlein (1901-1931) was murdered in 1931 by her intoxicated husband in Chicago, Illinois.
She married Norman Otto Olson I (1895-1977) on December 31, 1919 in Chicago, Illinois.
They had one child, Norman Otto Olson II (1921-1967) who died under the name "Norman Wickman". After the death of his mother, he was raised by Minnie Trautlein (1897-?) and Fred Wickman and he took their surname.
She was murdered by her husband with a gunshot to her abdomen on February 22, 1931.
External links
Edit
Memories of Isabelle Wickman
Edit
Todd Wayne Wickman writes on May 14, 2012: "[Isabelle Trautline was] her maiden name. She was murdered in the winter of ~1932 by her husband, my paternal great-grandfather, Otto Olson. My grandfather, Norman Olson aka Norman Wickman was adopted by Isabelle's older sister Minnie who was married to John [sic] "Slim" Wickman at the time. They divorced, she remarried and died as Minnie McCarthy in ~1980, yet my last name is still Wickman ... all because Otto came home drunk and killed Isabelle. as I mentioned, Isabelle's (and Minnie's) maiden name is Trautlein ... also, cause of death on her death certificate reads 'murder'."