Isaiah Henry Segars (1831-1878)
Talk

0
136,751pages on
this wiki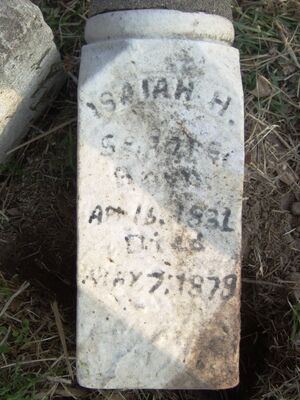 Born: 16 April 1831 Union Co, Kentucky
Died: 7 May 1878 Fairfield, Wayne Co, Illinois
Burial: Hearn Cemetery, Wayne Co, Illinois
Occupation
Edit
Civil War: Union Army, 29th Illinois Infantry, Company D; engaged in Battle of Shiloh, Siege of Corinth, Battle of Corinth. POW in Holly Springs, MS.
Isaiah enlisted in the 29th Illinois Volunteer Infantry, Company D for 3 years 14 Aug 1861 - 1 Jan 1865. Enlisted at Cairo, IL.
He was engaged in the Battle of Shiloh 6 & 7 April 1862; Siege of Corinth/Battle of Corinth 3 & 4 October 1863. The regiment was captured at Holly Springs, MS on 20 Dec 1862, confined in POW camp at Richmond, VA, then paroled, and returned to active duty.
Military description books describe him as: Light complexion, light hair, blue eyes, being 5'4" tall.
He was discharged as an infantry private for reason of expiration of terms of service.
There is some evidence that he was raised in the Ellison household rather than the Segars household. His name appears in census records as living in the James Smith Ellison [b. 7 Oct 1797 NC (1 census states VA); d. 20 Aug 1864 Gallatin Co., IL; md. Drewsilla] household.
30 October 1865 Fairfield, Wayne Co, Illinois
♂stillborn son
♀stillborn daughter
♂James Jesse Segars (1866- )
♂Joseph Ellsworth Segars (1868-1931)
♀Nancy Jane "Nannie" Segars (1872- )
♀Sarah Alice Segars (1874-1928)
♀Nora Ann Segars (1877- )
♂Isaiah Franklin "Frank" Segars (1879-1964)