Jacob Gundersen (1766-1838) of Lindtiørn
Most likely scenario: Jacob's marriage record states that he was from Ogna (see below), Although there is no record of a Jacob Gundersen having been born in Ogna, there was a Jacob Gundersen baptized October 1763 to a "Gunder Ekestad" in nearby Helleland, now part of the Eigersund municipality.
Second possibility: It has also been suggested that the subject of this article is the same Jacob Gundersen who was the son of Gunder Jacobsen and Anne Olesdatter, baptized in nearby Sokndal in December, 1766. Sokndal is about 30 miles south of Ogna along the coast. However, that Jacob appears to be living with his sister Edel in the 1801 census of Sokndal, yet unmarried.
Incorrect parents: There is at least one genealogy that lists Jacob's parents as Gunnar Gundersen and Johanne Olsdatter, a family that resided in Mykelsbust, some 500 miles away. The two families are clearly not connected.
Jacob's marriage record refers to him as Jacob Gunnersen of Ougno. Presumably, Ougno was a misspelling of Ogna, where he must have resided prior to marriage.


1801 Census
Edit
After marriage, Jacob resided with his wife in Lindtiørn until at least 1801. Gitlou's parents also resided in the same home.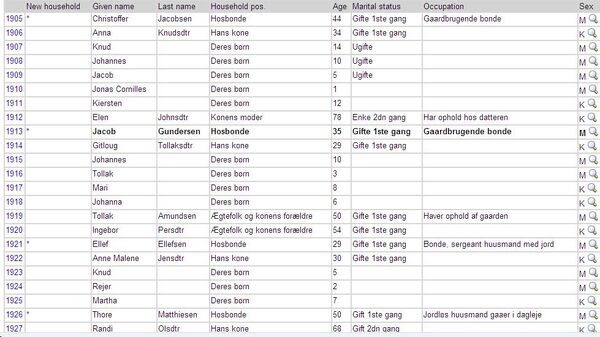 References
Edit
Ad blocker interference detected!
Wikia is a free-to-use site that makes money from advertising. We have a modified experience for viewers using ad blockers

Wikia is not accessible if you've made further modifications. Remove the custom ad blocker rule(s) and the page will load as expected.