Ad blocker interference detected!
Wikia is a free-to-use site that makes money from advertising. We have a modified experience for viewers using ad blockers

Wikia is not accessible if you've made further modifications. Remove the custom ad blocker rule(s) and the page will load as expected.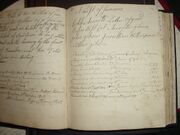 Genealogical Keynotes
Edit
Born: November 22, 1764
Birth Place: Dunbarton, Merrimac, New Hampshire
Married: About 1791
Died: December 22, 1841
Burial Place: St Georges Anglican Church Grafton, Northumberland, Ontario, Canada
James is the son of Col James Rogers (1727-1791) and Margaret McGregor (1740-1793)
Spouse(s)
Edit
Child List
Edit
Child Rogers - September 12, 1807 died on birthday.
Hannah Rogers - August 15, 1807 to August 25, 1807
Family History
Edit
In 1795 James petitioned the State of Vermont for the return of his fathers lands that were taken after the Revolution and was granted the unsold lands in Londonderry Township. In 1797 he petitioned the State for his fathers lands in Windham Township and was granted the unsold lands. Both townshps has an area of 69 square miles. The family left Vermont in 1817 and moved to Grafton, Northumberland, Ontario, Canada where James and Mary lived out their lives. James had sponcered several relitives educations with the sale of his fathers lands.
Military Service
Edit
James served in the Queens Rangers with his father in the American revolution. They mainly protected the Canadian border during the war.
Alternative Interpretation
Edit
References
Edit
Research Needs
Edit
Page Needs
Edit
Contributors
Edit
William Gorman (4th Great Grandson)