James Walker
was born
22 March
1754
to
John Jack Gunstalker Walker (1718-1797)
and
Mary Margret Culton (c1720-)
and died
20 August
1835
in
Illinois
,
United States
of unspecified causes. He married
Ann Walker (1754-c1836)
24 February 1774 .
Siblings
Children
OVERVIEW
Genealogical Keynotes
Vita
Born: March 22, 1754
Married: February 24. 1774
Died: 20 Aug 1835
Burial: Yatesville Cemetery, Morgan County, Illinois.
Ancestry
James is the son of John Jack Gunstalker Walker (1718-1797) and Margaret Culton (1898-?) . (The DOB for Margaret is inconsistent with her spouse's DOB. Other records have her born in about 1720 in Rockbridge County, VA and list her name as Mary Margret (Culton). The obviously incorrect dates were in the original article - http://familypedia.wikia.com/wiki/James_Walker_(1754-1835)?oldid=328734. Clearly need correction.)
Spouse(s)
Family history
Mary Ann Walker married her second cousin James Walker.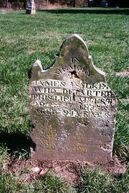 Tombstone is very worn and reads died "August 20th 1835" and "aged 84 years". (That is inconsistent with his stated birth year.)
Alternative interpretation
Records
Research needs
Page needs
Footnotes (including sources)
| | |
| --- | --- |
| ‡ General | White, Emma Siggins, 1902. Descendants of John Walker of Wigton Scotland and Some Allied Families. |
Contributors
Ad blocker interference detected!
Wikia is a free-to-use site that makes money from advertising. We have a modified experience for viewers using ad blockers

Wikia is not accessible if you've made further modifications. Remove the custom ad blocker rule(s) and the page will load as expected.