Jane Anne Joiner
was born
10 April
1869
at Nowendoc in
Walcha
,
New South Wales
,
Australia
to
John Joiner (-)
and
Susannah Rapson (1830-1911)
and died
22 May
1922
in
St Peters
,
New South Wales
,
Australia
of unspecified causes. She married
John William Farrell (1861-1933)
13 August 1890 in
Walcha
,
New South Wales
,
Australia
.
Jane Anne Joiner (Farrell) ran a boarding house in Walcha and after divorcing John Farrell operated a boarding house at 152 Unwins Bridge Rd, St Peters, up to the time of her death. The house is still there. The attached photo of the house shows Edith Susan standing with one of her brothers. She married Walter Ahrens Lahey, and they resided at 79 Coronation Parade, Enfield. Walter died young, and Edith lived in that house until her death.
Elva Farrell married Stanley Richard HOLSTEIN, a nephew of Walter Ahrens Lahey (Brother to Emily Lahey who married Richard John Holstein, Stan's father). (There could be a song in this somewhere.)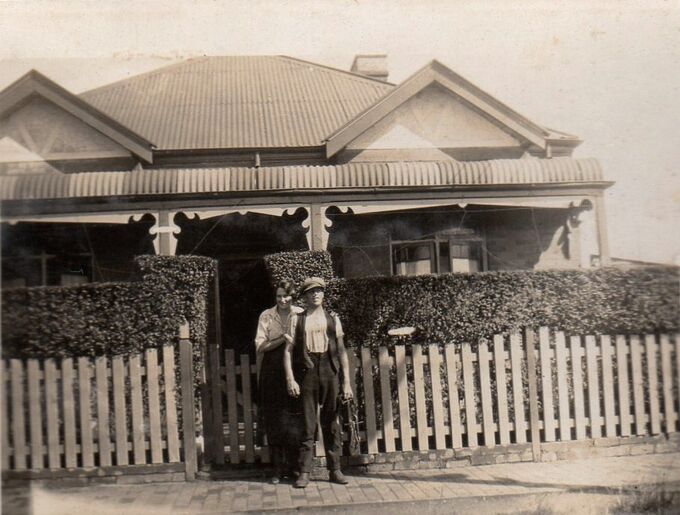 Children
Siblings
Footnotes (including sources)
| | |
| --- | --- |
| Ω Birth | BDM Index ref for birth: 5821/1869 |
Ad blocker interference detected!
Wikia is a free-to-use site that makes money from advertising. We have a modified experience for viewers using ad blockers

Wikia is not accessible if you've made further modifications. Remove the custom ad blocker rule(s) and the page will load as expected.