Ad blocker interference detected!
Wikia is a free-to-use site that makes money from advertising. We have a modified experience for viewers using ad blockers

Wikia is not accessible if you've made further modifications. Remove the custom ad blocker rule(s) and the page will load as expected.
Janna Geertruid Verink was born on February 21, 1762 on the Verink farm in Kotten, Winterswijk, Gelderland, Netherlands to Frederik Veerink and Geertruid Warnshuis. She married Gerrit Jan te Kolste on November 1, 1784. Gerrit Jan died in January 1797 and she remarried to Gerrit Jan te Bokkel on June 25, 1797. Janna died on August 18, 1829 in Huppel, Winterswijk, Gelderland, Netherlands.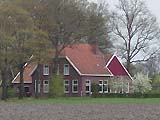 Children
Offspring of Janna Geertruid Verink and Gerrit Jan te Kolstee (1758-1797)
Name
Birth
Death
Joined with


Steven Jan te Kolstee (1782-1850)
1782 (Meddo+ Winterswijk+ Gelderland+ Netherlands)
1850
Hanna Berendina Hesselink (c1778-?)


Janna Harmina te Kolstee (1786-?)
30 June 1786 Meddo, Winterswijk, Gelderland, Netherlands
Teunis Weenink (1778-1832)


Derk Willem te Kolstee (1788-?)
25 December 1788 (Winterswijk+ Gelderland+ Netherlands)


Engelbartus te Kolstee (1791-?)
19 October 1791 (Winterswijk+ Gelderland+ Netherlands)


Gerrit Hendrik te Kolstee (1794-aft1860)
28 April 1794 Huppel, Winterswijk, Gelderland, Netherlands
1860 Chautauqua County, New York, United States
Engelina Nijenhuis (1788-aft1848)


Garrijtjen te Kolstee (1797-?)
26 January 1797 Meddo, Winterswijk, Gelderland, Netherlands
Parish records for the Verink farm in Kotten, Winterswijk, Gelderland, Netherlands
Sources and notes