Note: À tous les membres de la famille qui liront ces pages, et aux autres intéressés, à vous de faire les correctifs qui vous semblent appropriés. Ces écrits ne sont basés qu'au meilleur de notre connaissance.
NAISSANCE (Né à Blanzay, Poitou, France en 1650)
Note: Blanzais se nomme maintenant Blanzay
ENFANCE

Durant la jeunesse de Jean, la France était sous l'égide du Roi Soleil, Louis XIV. Vu le jeune age du roi les affaires politiques étaient sour l'authorité du Cardinal Manzarin, ce dernier continuant le dévelopement de la Nouvelle-France amorcé par son prédécesseur, le Cardinal Richelieu.

Image de la commune de Blanzay.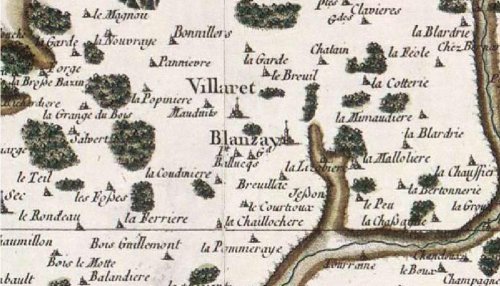 DEPART POUR LA NOUVELLE-FRANCE
Il y a quelques détails qui pourraient nous donner quelques indices sur la raison qui à poussé Jean Beaudet à quitter sa patrie en 1664.
D'abord, une famine générale s'est abbatue sur l'Europe en 1663 due aux conditions climatiques. La vie n'étant déjà pas facile a l'époque, on peux imaginer que le fait de ne pas pouvoir manger à sa faim était déjà une raison suffisante pour penser à devoir s'exiler. On peux aussi supposer que le pêre de Jean, Sébastien, n'était pas cultivateur, sinon il aurait pas eu intêret à laisser partir son ainé. Sachant qu'un départ vers la Nouvelle-France était sans retour, le but étant de coloniser ces nouvelles terres, Sébastien n'a donc pas eu d'autres choix que de le laisser partir. C'était probablement une question de survie pour l'ensemble de sa famille.
A la même période, le Roi Louis XIV, et surtout son ministre Jean-Baptiste Colbert mit en place une nouvelle politique d'incitation à la colonisation de la Nouvelle-France. Jean Baudet, ainsi que plusieurs autre poitevins, a sûrement eu vent de cette initiative, ce qui lui ouvra une porte à l'espoir d'une vie meilleure.
Au milieu de l'hiver 1664 on peut imaginer la famille Baudet discuter de l'avenir. Cela devait être le plus dur hiver qu'ils avaient vécu. L'offre du Roi était en suspend et ils se rendirent bien à l'évidence. Jean devais sauter sur l'occasion, même si il n'avait pas encore atteint l'âge minimum de 16 ans. Cette décision permettra surement aussi au reste de la famille de mieux survivre.
Alors, au printemps, Jean Baudet, alors agé de seulement 14 ans, quitta sa famille pour toujours. On peut l'imaginer avec comme seuls biens ses vêtements et son baluchon, prendre la route vers le port de La Rochelle. Une marche de 110 kilomêtre a vol d'oiseau, ce qui a dû lui prendre 3 ou 4 jours.

MARIAGE
Mariage de Jean Baudet et de Marie Grandin (1645-1715) le 7 septembre 1670 à L'Eglise Notre-Dame de Québec.
DECES (Décédé à Lotbinière, Nouvelle-France, en 1714)
Ad blocker interference detected!
Wikia is a free-to-use site that makes money from advertising. We have a modified experience for viewers using ad blockers

Wikia is not accessible if you've made further modifications. Remove the custom ad blocker rule(s) and the page will load as expected.