Ad blocker interference detected!
Wikia is a free-to-use site that makes money from advertising. We have a modified experience for viewers using ad blockers

Wikia is not accessible if you've made further modifications. Remove the custom ad blocker rule(s) and the page will load as expected.
Johanna Grugel
was born
1849
in
Prussia
and died
1926
of unspecified causes. She married
August Kiel (1843-1920)
1868 .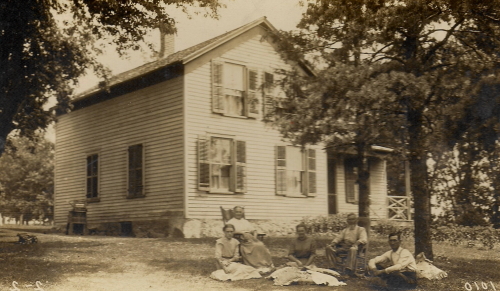 Johanna and August Kiel (in chairs) and on the ground L to R: their granddaughter Rose (daughter of August Jr.), their daughter-in-law Emma (wife of Emil) and their son Emil.
Children
Offspring of Johanna Grugel and August Kiel (1843-1920)
Name
Birth
Death
Joined with


August Kiel (1870-1954)
1870 Cook County, Illinois, United States
1954
Mina S. C. Pries (1878-1966)


Wilhelm Kiel (1873-1913)
3 May 1873 Cook County, Illinois, United States
28 June 1913


Maria Kiel (1874-?)
May 1874 Cook County, Illinois, United States
A. Delbert Pease (1857-)


Frederick Kiel (1877-?)
1877 Cook County, Illinois, United States
Bertha H. Krohn (c1884-)


Louis Kiel (?-?)


Henry Kiel (1881-1955)
14 October 1881
26 August 1955


Emil Kiel (1884-1972)
31 October 1884
27 November 1972
Emma Steige (1890-1915)
Min (bef1971-)


Mathilda Kiel (1887-?)
December 1887
1975
George S. Roberts (1876-1947)


Emma Augusta Kiel (1890-1983)
1 October 1890 North Plato, Kane County, Illinois, United States
18 November 1983 Woodstock, McHenry County, Illinois, United States
Sylvester Sylvanis Doty (1885-1953)

Sources and notes
‡ General

US Census, 1880, Schaumberg, Cook, IL

US Census, 1900, Plato, Kane, IL

US Census, 1910, Burlington, Kane, IL

US Census, 1920, Burlington, Kane, IL
Contributors