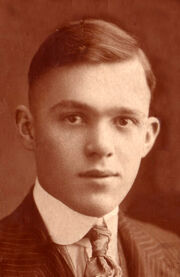 John Joseph Lozinski I (1896-1980) Emigrated from Austria to the USA around 1903 (b. June 24, 1896, Ukraine - d. October 04, 1980, Santa Cruz, Santa Cruz County, California, 95062, USA) Social Security Number 323107309.
He was born in 1896 to Joseph Lozinski and X Suranowicz in the Ukraine, which was part of the Austrian Hungarian Empire.
His siblings include: Walter Lozinski (1894-?); Kaffia Lozinski (1899-?); Mychalijna Lozinski (1902-?); Majk Lozinski (1907-?); and Anna Lozinski (1911-?).
Emigration
Edit
His family came to the United States on May 05, 1907 aboard the ship "Kestle". He came in through Galveston, Texas because the port of New York was closed by a storm.
World War I
Edit
On June 05, 1918 he filled out his draft registration card.
He married Helen Olive Olson (1900-1970) in 1919 and in 1930 they were living at 1813 West Chicago Avenue in Chicago with their two children. Helen and John divorced around 1932.
California
Edit
John moved to Santa Cruz, California at age 63. His younger brother had a restaurant there and he moved to help him out with the business.
He died in Santa Cruz, California in 1980. He was living at 235 1/2 6th Avenue, Santa Cruz, California, 95060 when he died.
Holy Cross Cemetery, Twin Lakes, Santa Cruz County, California, USA