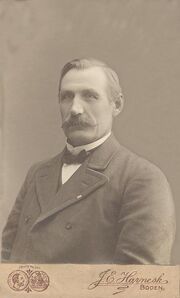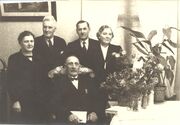 Jonas Carlsson Örbom (1859-1950) aka Jonas Karlsson, Railroad Captain (Banmästare) (b. 12 November 1859, Trollsåsen, Näskott, Jämtland, Sweden - d. 23 November 1950, Jämtland, Sweden)
He dropped the Örbom family name, and was known as Jonas Karlsson.
Jonas was the third great-grandson of Anders Örbom I (1675-1740), Cavalry Captain (Ryttmästare) in the Swedish Army.
Jonas died 23 November 1950 in Älvsby, Norrbotten, Sweden and was buried in the Churchyard cemetery in Älvsby.
Relationship
Edit
Jonas Carlsson Örbom (1859-1950) was the fourth cousin, three times removed, of Richard Arthur Norton (1958- ).
External link
Edit
Ad blocker interference detected!
Wikia is a free-to-use site that makes money from advertising. We have a modified experience for viewers using ad blockers

Wikia is not accessible if you've made further modifications. Remove the custom ad blocker rule(s) and the page will load as expected.