Genealogical Keynotes
Edit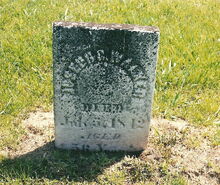 Born: 1786
Married:  October 30, 1817  Adair County, Kentucky
Died: July 5, 1842 Menard County, Illinois
Burial: Irish Grove Cemetery, Menard County, Illinois
Joseph is the son of James Walker (1750-1835) and Mary Ann Walker (1754-c1835).
Spouse(s)
Edit
Child List
Edit
Family History
Edit
Alternative Interpretation
Edit
References
Edit
1. White, Emma Siggins, 1902. Descendants of John Walker of Wigton Scotland and Some Allied Families.
2.  Marriage recorded in Marriage Book A, page 51, Adair County Courthouse, Columbia, Kentucky.
3.  Estate Settlement is in Box 472, Menard County Courthouse, Petersburg, Illinois.  No will included.
Research Needs
Edit
Page Needs
Edit
Contributors
Edit