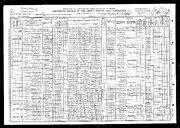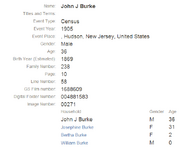 Josephine Smith (1875-1962) aka Josephine Schmidt, Housewife (b. September 28, 1875, New York City, New York, USA - d. Friday, December 21, 1962, Jersey City Medical Center, Jersey City, Hudson County, NJ, 07307, USA)
Josephine was the daughter of William Smith and Louise Ferry.
She was the second wife of John Joseph Burke I (1868-1939).
Bertha Burke (1902-1971) who married Stephen H. Prasky (1897-1965); William Burke II (1905-1996) who married Eleanor Catherine Outwater (1912-1978); Josephine Veronica Burke (1907-1995) aka MAy Burke, who married Thomas Patrick Norton I (1891-1968); John Joseph Burke II (1909-1986) aka John Stephen Burke who married Elizabeth Jones (1909-1958); Margaret Burke (1913-c1971) who married David Thomas Morgan (c1914-c1974); and Owen Burke (1915-1984) who never married.
Children raised by aunt
Edit
John and Josephine had trouble earning enough money to support all their children, so the girls were raised by his sister, Mary Ellen Burke. Josephine and John appear in the 1930 US Census living at 1032 Garfield Avenue in Jersey City and John was working in a florist shop.
Memories about Josephine Schmidt
Edit
Mary Jane Burke (1941- ) said: "She was born in New York City and was raised by an uncle. Her husband, John Joseph Burke, was disinherited from his family. His sister, Mary Ellen Burke, got all the money when his parents died. The money given to Mary Ellen Burke that was supposed to go to John Joseph Burke was to be used for the education of his children. She had the children live with her, but she didn't get along with the boys and the boys left or were forced to leave. She said she hated them. Bertha Burke and Josephine Burke stayed with her. She may have been German and her name may have originally been 'Schmidt'. She walked over the Brooklyn Bridge the day it opened, she had to pay a penny to do it. All the children were baptized and confirmed at Saint Patrick's Roman Catholic Church in Jersey City, New Jersey. The all went to school at St. Patrick's School across the street from the church. Josephine died at 83 Harmon Street at the home of her son, Owen Burke."
Josephine was living at 83 Harmon Street in Jersey City when she died in 1962. She was buried in Holy Cross Cemetery in North Arlington.
External link
Edit