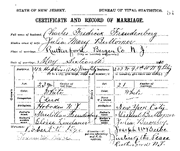 Julia Mary Buttomer (1883-1973) Servant and Housewife (b. November 13, 1883, 594 3rd Avenue, Manhattan, New York County, New York City, New York, 10016-2730, USA - d. before March 14, 1973, Bellwood, Cook County, Illinois, 60104, USA) Social Security Number 136262437.
Birth
Julia was born to Michael Buttomer (1865-?), a saddle and harness maker; and Julia Buckley (1865-1894) in 1883.
Siblings
When she was born there were 4 other siblings living and one that died as an infant. She may have been a twin since there is a Catharine Buttomer born on the same day, or there may have been a mistake in naming the child on the birth certificate.
Death of mother
Her mother may have died on April 30, 1894, possible in childbirth. She was 39 years old, and was certificate "14685". There is an Eleanore F. L. Buttomer that died on October 20, 1894. She was 7 months old and was certificate number "34534".
Manhattan, New York
Her family was living at 594 3rd Avenue in Manhattan, New York City when she was born. In 1910 she working as a servant at the home of Gustave and Estelle Dick at 203 West 95th Street in Manhattan.
Marriage
Julia married Charles Fredrick Freudenberg (1887-1942) on May 16, 1910. On October 06, 1910, Charles was working as a stationery clerk at the Commission Office in Jersey City.
Children
Julia and Charles had one child: Charles Francis Freudenberg (1910-1979).
Lyndhurst, New Jersey
By 1920 Julia and Charles were living at 282 Willow Avenue in Lyndhurst in Bergen County, New Jersey and in 1930 Charles was listed as the owner of a printing company.
Death of husband
In 1942 Charles senior died of rectal cancer and Julia moved to Chicago, Illinois with her son.
Death
She died in Bellwood, Cook County, Illinois and was buried on March 14, 1973. She may have a had a relative in Chicago and that may be the reason she moved there after her husband's death.
Funeral notice
Her funeral notice appeared in Chicago on Tuesday, March 13, 1973 and reads as follows:
Freudenberg - Julia M. Freudenberg, of Bellwood, beloved wife of the late Charles F.; loving mother of Charles [Rita]. Funeral Wednesday, 9:30 a.m.. from Hennesey Funeral Home, 5903 Burr Oak Avenue, Berkeley, to Saint Simeon Church for mass at 10 a.m. Interment local. Donations to Cancer Society preferred.
Burial
Forest Home Cemetery, Forest Park, Cook County, Illinois. She was in lot 401, section 61.
Footnotes (including sources)
Ad blocker interference detected!
Wikia is a free-to-use site that makes money from advertising. We have a modified experience for viewers using ad blockers

Wikia is not accessible if you've made further modifications. Remove the custom ad blocker rule(s) and the page will load as expected.