Kankakee County

,

Illinois


Location in the state of Illinois

Illinois's location in the U.S.
Founded
February 11, 1853
Seat
Kankakee
Area
 - Total
 - Land
 - Water

681.44 sq mi (1,765 km²)
676.75 sq mi (1,753 km²)
4.70 sq mi (12 km²), 0.69%
Population
 - (2000)
 - Density

103,833
153/sq mi (59/km²)
Website
www.co.kankakee.il.us
Kankakee County is a county located in the U.S. state of Illinois. As of 2000, the population was 103,833. Its county seat is Kankakee, Illinois[1].
The Kankakee-Bradley Metropolitan Statistical Area includes all of Kankakee County. The county is also part of the larger Chicago–Naperville–Michigan City, IL-IN-WI Combined Statistical Area.
Geography
Edit
According to the 2000 census, the county has a total area of 681.44 square miles (1,764.9 km2), of which 676.75 square miles (1,752.8 km2) (or 99.31%) is land and 4.70 square miles (12.2 km2) (or 0.69%) is water.[2]
Major highways
Edit
Adjacent counties
Edit
Demographics
Edit
Historical populations
Census
Pop.
%±
1860
15,412

—

1870
24,352

58.0

%
1880
25,047

2.9

%
1890
28,732

14.7

%
1900
37,154

29.3

%
1910
40,752

9.7

%
1920
44,920

10.2

%
1930
50,095

11.5

%
1940
60,877

21.5

%
1950
73,524

20.8

%
1960
92,063

25.2

%
1970
97,250

5.6

%
1980
102,926

5.8

%
1990
96,255

−6.5

%
2000
103,833

7.9

%
2010
113,449

9.3

%
IL Counties 1900-1990
As of the census[3] of 2000, there were 103,833 people, 38,182 households, and 26,765 families residing in the county. The population density was 153 people per square mile (59/km²). There were 40,610 housing units at an average density of 60 per square mile (23/km²). The racial makeup of the county was 79.89% White, 15.47% Black or African American, 0.18% Native American, 0.68% Asian, 0.02% Pacific Islander, 2.38% from other races, and 1.38% from two or more races. 4.78% of the population were Hispanic or Latino of any race. 21.3% were of German, 9.9% Irish, 8.7% French, 6.6% American and 5.4% English ancestry according to Census 2000. 94.1% spoke English and 4.3% Spanish as their first language.
There were 38,182 households out of which 34.40% had children under the age of 18 living with them, 52.80% were married couples living together, 13.10% had a female householder with no husband present, and 29.90% were non-families. 24.90% of all households were made up of individuals and 10.40% had someone living alone who was 65 years of age or older. The average household size was 2.61 and the average family size was 3.12.
In the county the population was spread out with 27.10% under the age of 18, 9.70% from 18 to 24, 28.20% from 25 to 44, 22.00% from 45 to 64, and 13.10% who were 65 years of age or older. The median age was 35 years. For every 100 females there were 95.60 males. For every 100 females age 18 and over, there were 91.90 males.
The median income for a household in the county was $41,532, and the median income for a family was $48,975. Males had a median income of $37,776 versus $25,287 for females. The per capita income for the county was $19,055. About 8.70% of families and 11.40% of the population were below the poverty line, including 15.60% of those under age 18 and 7.20% of those age 65 or over.
Kankakee County is considered a swing county. In the 2008 Presidential Election Kankakee County voted 52% in favor of Illinois native Barack Obama (D), 47% for John McCain (R). In the 2004 Presidential Election, Kankakee County voted 55% in favor of George Bush (R) and 44% for John Kerry (D).
Kankakee County is in Illinois's 11th congressional district, represented by Republican Adam Kinzinger (R-Manteno).
TKankakee County has produced three governors: Len Small (R), Samuel Shapiro (D), and George H. Ryan (R).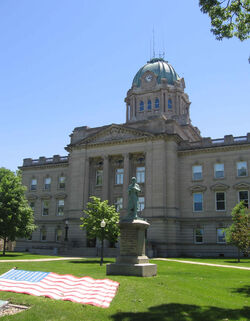 Settlers came to Kankakee County in 1834, after the federal government signed the Treaty of Camp Tippecanoe in 1832. As word spread about the government acquiring the land, many immigrants of New York and Vermont moved their way west, mostly locating in Momence, Illinois.
An act of the Illinois Legislature created Kankakee County out of the north part of Iroquois County and the south part of Will County on February 11, 1853. The six original townships were: Yellowhead, Rockville, Bourbonnais, Momence, Aroma Park, and Limestone. The population of the new county was about 8,000. It wasn't until 1855 that the two western townships of Norton and Essex were taken from Vermilion County and added to Kankakee County. The County was named for the Kankakee River.
Townships
Edit
Kankakee County is divided into seventeen townships:
Cities and Towns
Edit
Unincorporated places
Edit
Climate and weather
Edit
Climate chart for Kankakee, Illinois
J
F
M
A
M
J
J
A
S
O
N
D

temperatures in °C

•

precipitation totals in mm


source: The Weather Channel[4]
In recent years, average temperatures in the county seat of Kankakee have ranged from a low of 12 °F (−11 °C) in January to a high of 86 °F (30 °C) in July, although a record low of −29 °F (−33.9 °C) was recorded in January 1985 and a record high of 107 °F (42 °C) was recorded in August 1988. Average monthly precipitation ranged from 1.62 inches (41 mm) in February to 4.54 inches (115 mm) in May.[4]
References
Edit
Forstall, Richard L. (editor) (1996). Population of states and counties of the United States: 1790 to 1990 : from the twenty-one decennial censuses. United States Department of Commerce, Bureau of the Census, Population Division. ISBN 0-934213-48-8.

 
External links
Edit
Major city

Cities
(over 30,000 in 2010)
Towns and villages
(over 30,000 in 2010)

Counties
Regions
Sub-regions
Coordinates: 41°08′N 87°52′W / 41.14, -87.86
Ad blocker interference detected!
Wikia is a free-to-use site that makes money from advertising. We have a modified experience for viewers using ad blockers

Wikia is not accessible if you've made further modifications. Remove the custom ad blocker rule(s) and the page will load as expected.