Genealogical Keynotes
Edit
Born: Sunday, August 15, 1802 (Death Certificate)
Married:c. 1832 to James Morrow (1784-1881) in Ireland. Based on YOB of eldest daughter Maria born in Ireland in 1833.
Died: 28 December 1894, Waterbury, VT (Based on age in years, Months, Days, on Death Certificate
Burial:
Katherine's death certificate identifies her parents as Mark McNulty and Mary O'herran. That, plus the fact the death certificate also indicates she was born in Ireland is the sum total of what we know about her ancestry. Since James and Katherine were apparently married in Ireland, it is assumed that her parents did not immigrate with them, though that is purely a supposition.
Spouse(s)
Edit
Child List
Edit
Family History
Edit
Alternative Interpretation
Edit
Death Certificate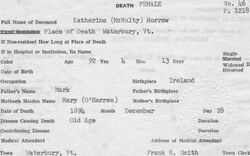 References
Edit
Research Needs
Edit
Page Needs
Edit
Contributors
Edit
Ad blocker interference detected!
Wikia is a free-to-use site that makes money from advertising. We have a modified experience for viewers using ad blockers

Wikia is not accessible if you've made further modifications. Remove the custom ad blocker rule(s) and the page will load as expected.